PROPERTY/FACILITY DETAILS
FEATURES, DETAILS, CHECKLIST
FEATURES
The many things Eagles Nest offers:

– Ideal location immersed in nature and 20 minutes to Downtown Vancouver.
– Private, self-contained 2-floor private house and property (1600 sq ft)
– Sleeps up to 8, in 5 beds, 4+ rooms (three bedrooms)
– Furnishings, utilities, and amenities provided for self-catering
– 200 ft x 50 ft property with stream
– 350 sq ft sunny deck with panoramic views, large BBQ and table for 8
– 5 large beds that are ample for sleeping up to 6+ in 4 rooms (three bedrooms)
– 3 comfortable pull out couch/beds (2 queen and 1 double)
– 2 bathrooms including a deep Japanese Jacuzzi including showers in each
– Outdoor hot-tub with great views
– Fireplace with wood provided
– Fully equipped kitchen with gas range, dishwasher, and much more
– Fresh linens and towels, soaps, t.p.
– Laundry facilities with detergent
– Office area with computer and free high-speed wireless internet
– Library, Games, Cable TV, DVD, Theatre sound stereo, (& HDTV)
– A telephone with free unlimited long distance phone calls!
– Helpful info package with our guide to the area
– On site managers for any assistance you may need…
Soak in the outdoor hot-tub beneath the
stars, and return to a wood fire.
---
Location: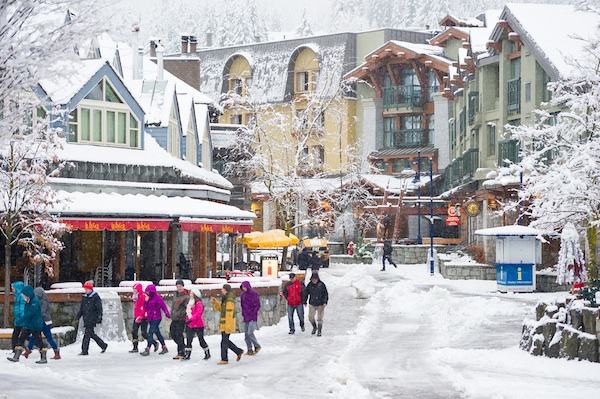 – Quiet village of deep cove, immersed in mountains, ocean and forest
– Recognised as most likely the most beautiful yet close locals so near Downtown Vancouver
– 15km to downtown Vancouver (20 minute drive)
– An amazing all year round vacation destination (Spring, Summer, Fall, Winter)
– A World Class destination for Water, Hiking and any Winter activities
– Only a 15 minute drive to Mount Seymour Skii Resort:   www.mountseymour.com
– At the foot of 2 pristine provincial parks with world class recreational facilities
– A beautiful 1 1/2 hour drive to the famous Whistler Snow Resort!
Kitchen Details
Kitchen Details:
Serving bowls
Salad bowl                             x3
Serving / Veg dishes,
>square, M                            x1
>square, L                             x1
>oval,  M                               x1
Casserole dishes (with lids):  
>large (Ceramic)                      x2
>Med (Ceramic)                       x2
Baking Pans:
>baking tray/sheet                 x 3
>cake tin                                x 1
>Cup Cakes                           x 2
Frying Pans:
>Frying pan (Stainless)       x 1
>Frying pan                         x 2
(non stick non scratch, high quality)
Cooking Pots: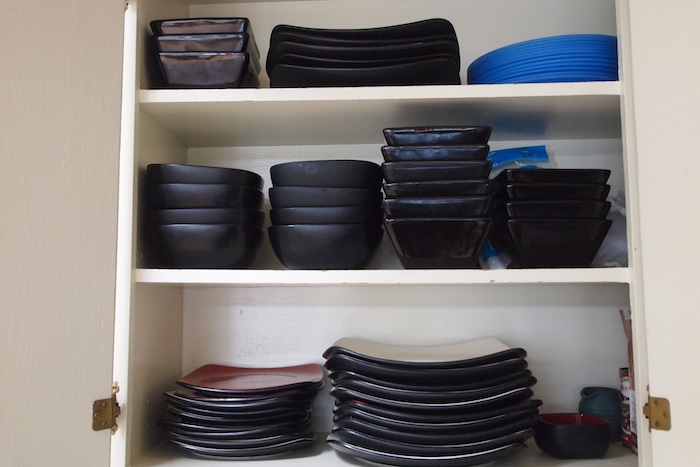 Large                                   x1
Medium                                  x2
Small                                     x3
Serving Accessories:
Butter dish                             x1
Gravy Boat                            x1
Crockery:
Cereal bowls                      x12+
Soup bowls                        x10+
Egg cups                            x16+
Plates (large)                      x15+
Plates (small)                      x9 +
Plastic Plates (outdoor)      x12+
Cutting boards:
>wood                                       x2
>plastic                                     x2
Cutlery:
Knives                                    x12+
Steak Knives                          x12+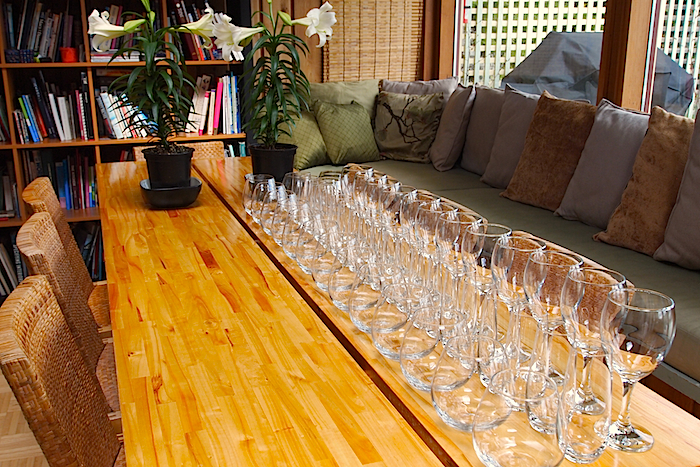 Forks                                      x16+
Smaller spoons                      x10+
Table/Soup spoons                x20+
Salad serving spoon set(2)    x1
Preparation Equipment:
Coffee Grinder                        x1
Coffee maker (drip)                 x1
french coffee press                 x1
box cheeze grater                   x1
Measuring Cup Large             x1
Mixing bowls (L,M,S)
Colander (metal)                    x1
Sieve                                      x1
blender                                   x1
Cups & Glasses:
Mugs                                     x9+
Pint glasses                        x16+
Wine glasses                      x16+
Tumblers – large                 x16+
Tumblers – Small                x16+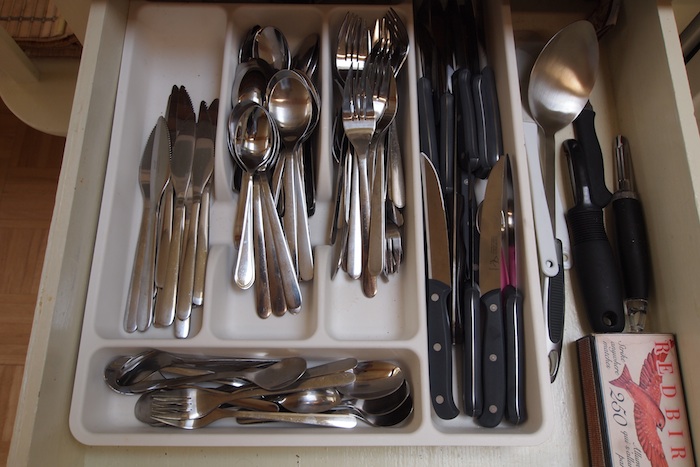 Stovetop Utensils:
Seive spoon                           x1
Draining spoon (metal)          x2
Lg. serving spoon (metal)      x2
Cooking spoon (wood)          x2
Ladle                                     x1
Tongs                                    x1
Scraper (metal)                     x1
Scraper (wood)                     x1
Fish slice (wooden)             x1
Heat-proof spatula               x1
Prep Utensils / Tools
Rolling pin
Whisk
Masher
Peeler
Garlic press
Bottle opener/Corkscrew
Tin opener
Carving fork
Kitchen scissors
Full knife rack with sharpener
>large chef knife               x2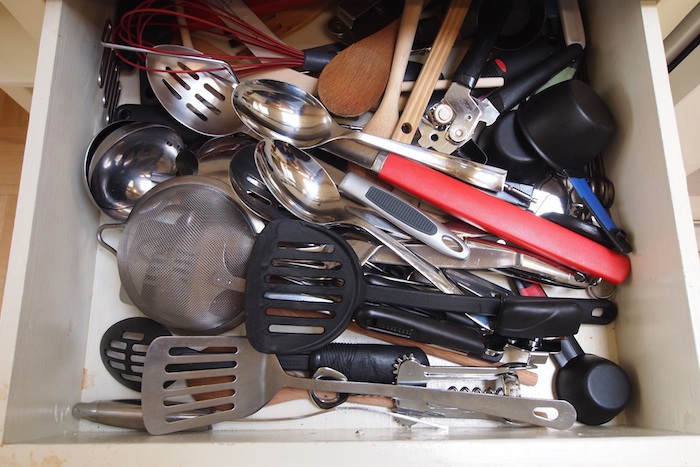 >Med chef knife                x2
Kitchen Linens:
Tea towels                       x12+
Oven mitt                         x2
Other:  
Paper towel holder
Paper towels (full roll)
Sink Items:
Double sink with Garbage Disposal
Washing-up brushes
Sponge/Scourers
Washing-up liquid
Hand soap (eco- friendly)
Under-Sink Items:
Dustpan & brush
Jay cloths
Sponge/Scourers
Scouring pad
Flash wipes
All-purpose cleaner (full bottle)
Washing up liquid (full bottle)
Dishwasher tablets
Bin bags – white
Kitchen roll                   x3
Plunger
Appliances:
Oven with 4 burners
Dishwasher for 12 place settings
Fridge with freezer
New Barbeque with side burner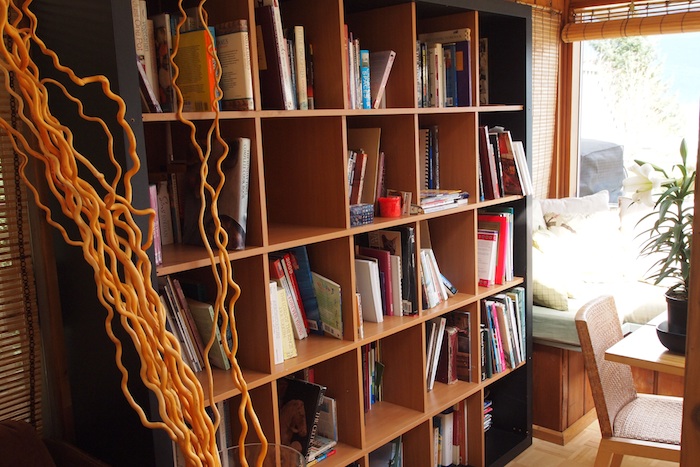 >Ice trays
Toaster
Kettle
Clock
Expresso Machine
Large Microwave Oven
Miscellaneous:
Bin (with liners)
Recycling containers
Phone
Safety:
Fire Hydrant
First Aid Kit
Hand lighters and matches
Information:
-Maps and guides to local walks and
amenities,
-Welcome pack notebooks with information about the
house and amenities.
-Guest Book with past guest reviews
Games:
Scabble
Trivial Pursuit
Backgammon
Jigsaw Puzzle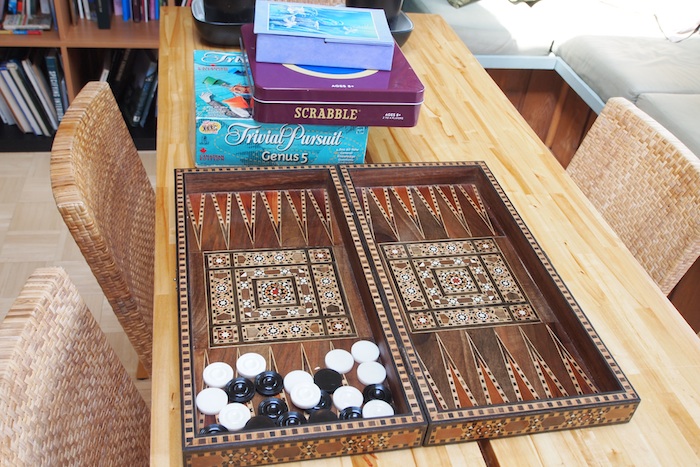 Rental Checklist
(There are many options for Rental destinations in the greater Vancouver area.  You can use this in your search as a working guide… the more items from this list you can check off, the better your Vacation experience at that property will be)…
Is the general surrounding area Quiet and Restful?
Does the home have a nice view of Nature, possibly Water?
Is the Living Area warm, open and inviting?
Does the Living Area have a Fireplace with real wood?
If so, is ample wood available?
Does the home have at least three Bedrooms?
Is there guest controlled Heating?
Is there an on demand Water Heating system?
Is there flexibility with Bed Configurations for larger groups?
Is the parking easy, accessible and ample for at least three cars?
Are there not too many steps to the property Front Door?
Is there a keyless Entry Lock so guests can arrive at any time?
Is the Internet fast, with Wi-Fi that covers the whole property?
Is there ample natural light possibly with Skylights?
Does it have a Deck and if so a good sized one with ample seating?
Does the Deck have a nice Barbeque?
Is there a large Master Bathroom, hopefully with a Large Tub?
Are there at least 2 bathrooms?
Is the Kitchen fully stocked as well as the Home itself?
Is the Home Child friendly with High Chair, Cot and related Kitchen Items?
Is the Home Pet Friendly?
Are there good walks for Dogs on and off leash?
Are there Games and Books to read?
Does the TV have a Theatre Sound system?
Are the owners close by to help if needed?
Does the property have a Garden with landscaping and natural features?
If so, does the Garden have an outdoor Hot Tub?
Is the property near Nature with Hikes and related activities?
Is the property near a Winter Resort for Skiing, Snowboarding and Snow Shoeing?
Is the Resort also good for Spring and Summer Hiking and Mountain Biking?
Is the property near a water Sport Center with Kayaks, Canoes and SUP's?
Is the property near Marinas that have Boat Rentals?
Is the property a short walk to a nice Downtown area with many Restaurant options?
Does the property have a comprehensive Website with detailed info to refer to for your stay?
Does the Home have an extensive Welcome Pack for your stay onsite?
Has this Property been in operation for at least 5 Years?
Eagles Nest FAQ
Eagles Nest FAQ

Q:  How long does it take from the house to get to downtown Vancouver?
A:  About 20 minutes depending upon traffic.  Rush hour traffic should be avoided if possible.
Q:  Where can we find the Baden Powell trailhead to Quarry Rock?
A:  Just up the street (only three houses) to the col-de-sac (end) is the beginning of Baden Powell trail.  It's about a 45-minute walk across the beautiful forest to spectacular Quarry Rock.  See this link for more info:  http://www.vancouvertrails.com/trails/quarry-rock/
Q:  How much firewood can we use?
A:  We provide a pile of firewood for you and if you need some extra wood we have additional wood right by the "manager's office" just down the wooden stairs one flight.  If you like to use a lot of wood, and go through the extra wood, please purchase more wood at the nearby Safeway Food store.
Q:  Where is the Safeway Grocery store?
A:   It's only a five minute drive by car from the house.  You pass this on the way from the airport if you drive along Mt. Seymour Parkway. It is in Parkgate Mall which has many useful shops and a liquor store.  The address is: Parkgate Village Safeway, 1175 Mt. Seymour Road, North Vancouver, BC V7H 2Y4
Store Phone: 604-924-1302 Pharmacy Phone: 604-924-1325 Normal Store Hours: 7:00am – 12:00am.  Link to store:
https://www.safeway.ca/find-a-store/store/4958-parkgate-village
Q:  Are there other stores besides Safeway?
A:  Yes.  Just in the Safeway (Parkgate) shopping center there is a shop called the Farmers Market.  They have excellent vegetables and fruit (much of it organic) and at good prices.  They also have eggs, milk, cheese and yogurt as an example.
For major shopping, we recommend our large (mostly food) store called Superstore, right after you pass over the Second Narrows Bridge (between Vancouver and North Vancouver).  This by far is the best place to do a major shop for food for your trip.  They have the best prices and best selection.  It is a wonderful store.
Q:  How do we use the outdoor Hot Tub?
A:  If you let us know you will want to use it during your stay, we are happy to prepare the Hot Tub for your arrival.  We set the temperature to 104 degrees Farenheit (which is customary for most groups).  There is one white push button on the tub to turn the jets on and off.  Please make sure to cover the tub when you are done because it can lose temperature (especially in the colder seasons).
Q:  How does the inside Jacuzzi work?
A:   Fill the tub past the jets and intake with your desired temperature of water.  Then twist the control dial on the wall next to the bathroom drawers.  The Master
Bath Jacuzzi will turn on.   The Jacuzzi has nice strong jets and can handle up to 4 people at a time.
Q:  How does the Cinema Flatscreen TV work?
A:  Use the Toshiba remote controller to turn on the TV.  The TV takes a couple seconds for the power indicator on the lower right corner to glow green.  Once the TV is powered up, use the Telus Remote controller to turn on our Optik channel service.  You can then navigate the many channels it offers.